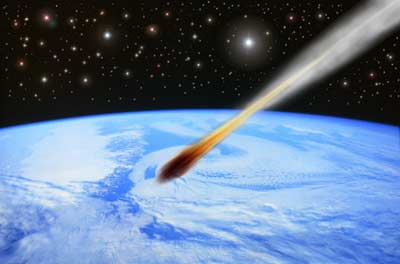 By John Quensen
Some 35 million years ago, an asteroid or comet 2 to 3 miles in diameter hurtled through space at 45,000 to 157,500 miles per hour until it crashed into the Earth where the city of Cape Charles, Virginia is now located.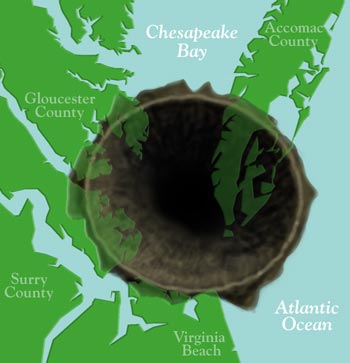 It hit with such force that it blasted through the shallow sea and sediments, fractured the underlying rock to a depth of 5 miles, and created a crater nearly a mile deep and 56 miles wide. It is now buried beneath 1,000 to 1,700 feet of sedimentary rock and sediment, but its existence explains several geological features of the area including the saline groundwater and higher rate of subsidence at the mouth of the Chesapeake.
While it was created long before the Bay, it persisted as a low area and influenced the location of the Bay and the flow of the James and York Rivers when they did form. Both of these rivers make a turn toward the impact center as they cross the rim the crater.
The Suffolk Scarp and Ames Ridge, elevated land forms 30 to 50 feet high across Virginia's two lower peninsulas and the Eastern Shore, are now recognized as the outer rim of the crater. It took 10 years to piece together information to prove the existence of the Chesapeake Crater. You can read more about it in the book:
"Chesapeake Invader" by C. Wylie Poag