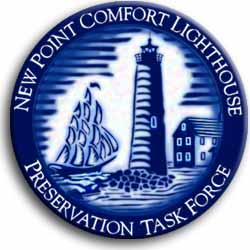 The New Point Comfort Lighthouse needs your help. There are some immediate maintenance concerns as well as long term restoration, preservation, and maintenance issues to be addressed. The Mathews County Historical Society is leading the latest effort by creating a five-year "Master Plan" for the County of Mathews. Working with the Board of Supervisors, we expect to bring the expertise of engineers, architects, erosion specialist, and other professionals to help develop the Plan. Upon approval the Society will raise funds to implement the preservation work.
In August, 2001 the Society formed the New Point Comfort Preservation Task Force. Guided by Chairman Earl Soles the group is already hard at work on it's mission: "To develop a plan to preserve the New Point Comfort Lighthouse as a permanent historic sentinel representing American navigation, transportation, commerce, craftsmanship, engineering, and Americans' perseverance through peace and war."
The following organizational structure was set up to accomplish the goal :
Research and Records:This subcommittee will review and coordinate all the existing information about the New Point Light and relevant materials on other lighthouses that may be of use.
Land & Water: This group will consider the elements that affect the lighthouse: wave and wind action, erosion, underwater grasses and other environmental concerns, etc. It will look at what should be done to preserve and/or enhance the existing island.
Lighthouse Structure: The lighthouse itself is the focus of this group: how should the building be preserved? What materials should be used for repairs? It will also consider ventilation, etc.
Public Access & Security: This group will consider the issues of public access and security for the island and building. Since the dock installed in the 1970's was washed away, there is no safe access to the island. The riprap is very slippery and dangerous for visitors to climb upon. The door has been taken down a number of times, leaving the building open to the elements.
Development & Fundraising: This committee will look for and develop sources of funding to pay for the repairs and maintenance to the lighthouse and for securing the land. The County already has a designated fund and the Historical Society also has a Lighthouse Preservation Fund for donations.
Communications & Publicity: This will be a critical task as we move forward with planning and the process of developing a Master Plan. This web site is part of our effort to keep the public informed of our activities.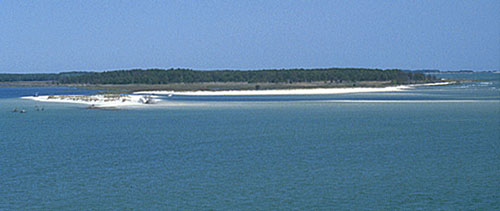 Spectacular view from the Lighthouse lantern walk looking North towards the New Point Comfort Peninsula. To the left is the New Point Island and Harper Creek, on right is the Chesapeake Bay. This picture also gives an indication of how far the tiny lighthouse island has been separated from the mainland.
For more information on how you can help "Save Our Sentinel" Contact the:
Preservation Chairman,
Earl Soles, at (804) 776-6194 or
donate online at:
SaveNewPointLight.com
References Cited:
Mathews County Historical Society - www.rootsweb.com/~vamchs/
Constance Ober, Bob Warren, and Scot Turner