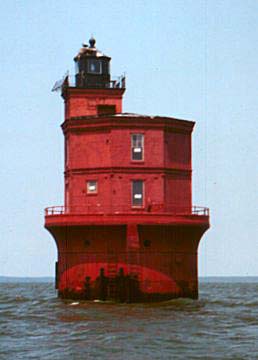 Wolf Trap light is located about 2 1/2 miles East of Horn Harbor, and 8 miles northeast of New Point Comfort. The light marks the Wolf Trap Spit Shoal where once, in 1690, the 350 ton English merchantman HMS Wolfe ran aground.
The shoal was first marked with an anchored lightship by the Lighthouse Board in 1821. It was destroyed by Confederate troops during the Civil War. In 1864 a new lightship was stationed on the shoals.
A permanent screwpile light was erected in 1870 with a flashing fourth-order Fresnel lens. It stood for 23 years until the brutal winter of 1892. That year temperatures plummeted early, and by late December part of the Chesapeake Bay was covered with large ice flows. In January, a heavy flow cut the light from it's pilings. It was located 20 miles to the South two days later near the Old Point Comfort light in Hampton Roads.
A temporary lightship was again stationed at Wolf Trap shoal until the present caisson structure with a 3 story octagonal brick lighthouse was completed. The new tower was first lit on September 20, 1894. It has remained in operation since that date and was automated by the US Coast Guard in 1971.
References Cited:
Photo of Wolf Trap Light by John Quensen, July 1999