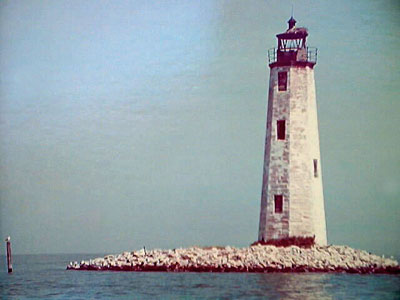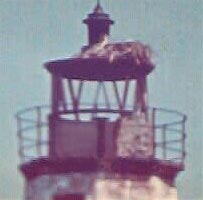 (Above) During the period when the lighthouse was abandoned, between 1963-1976, the southern side of the lantern house was apparently struck by lightning.
(Right) An enlargement shows the extensive damage to the wall of the lantern house. Inside is the beacon pedestal showing the missing Fresnel lens. This and other tower masonry and brickwork were repaired during the 1970's restoration project.
(Photos courtesy of Steve Brownley and Mrs. Leona Brownley of Port Haywood)


n 1963, after 158 years as an active navigational beacon the New Point Comfort Lighthouse was finally replaced with a more modern and efficient red flashing structure called New Point Comfort Spit Light. For 13 long years, between 1963 and 1976, the lighthouse was abandoned. Open to visitors as well as vandals, the door was taken off, windows were broken, and the Fresnel lens, installed in the mid 1800's, was removed and lost. The tower interior became a home to shore birds and an alleged family of fruit bats. The lantern house also suffered severe damage after apparently being struck by lightning, although the date it happened is still uncertain.
The lighthouse was designated as a National Historic Landmark in 1972 and acquired by Mathews County in 1975. Within one year the New Point Comfort Restoration Committee was established and restoration work began.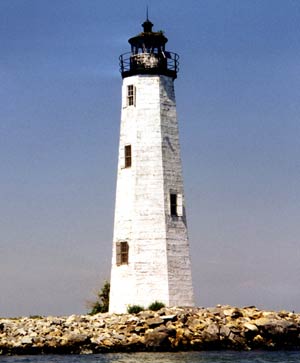 The New Point Comfort Lighthouse in 1981 after extensive restoration.

(Photo courtesy of Gary Brownley)
Over the next five years the lighthouse was restored. The tower masonry was repaired and repainted, and a new door and windows installed. The Iron railings and brick walk surrounding the lantern house were repaired, and 600 tons of riprap addedto the eastern side of the island to provide additional protection from the sea.
The Virginia Historic Landmarks Commission provided the greatest portion of the financial support, committing approximately $35,000 in matching grants through the years. Other major sources were $20,000 from the Commonwealth of Virginia, $7,500 from the Edwin-Treakle Foundation; and approximately $4,000 from the Mathews County Bicentennial Commission. A number of concerned citizens and local civic groups made additional contributions or donated valuable items for fundraising raffles.
References Cited:
The New Point Comfort Lighthouse Restoration Committee Report, July 1981, Captain Refo, USN; John Handy; Benjamin Thompson; The Hollerith Family.
Mathews County Historical Society - www.visitmathews.com/reasons_to_visit/mchs/mchshome.htm