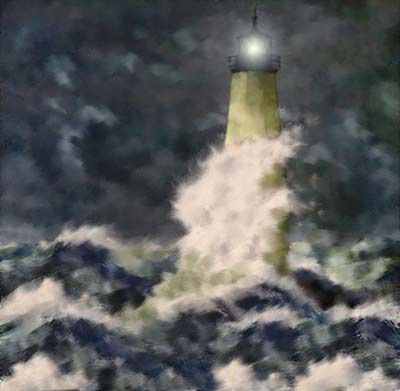 On the 17 of August, 1933 a tropical storm was discovered about 100 miles east of Puerto Rico. The storm strengthened into a hurricane by the 18th, and tracked northwest. A blocking high pressure ridge over New England changed the storm's course to a westerly direction. The British colony of Bermuda was lashed by 80 mph winds as the center passed 100 miles to the southwest of the island.
Rough surf conditions developed near Hampton Roads during the afternoon of the 22nd. The system made landfall near Nags Head around 3 a.m. on the 23rd. By 9 am, the center passed over Norfolk, where the pressure fell to 28.68". Some of the lowest pressures ever measured in Virginia occurred with this hurricane. The lowest pressure of 28.68" occurred at 9:20 a.m..
This was the first time an eye of a hurricane had passed over Norfolk since the great hurricane of September 3, 1821. Sustained gales extended well inland over northern sections of Virginia. Maximum winds were 70 mph at Norfolk, 82 mph at Cape Henry, and 88 mph at Norfolk Naval Air Station.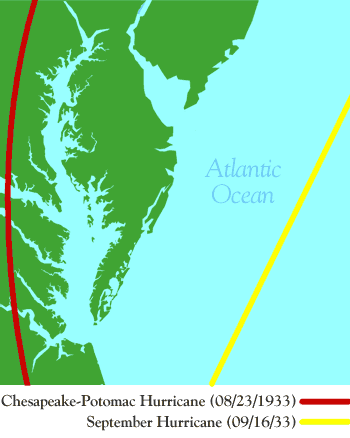 Areas near the Chesapeake saw over 10 inches of rain. Some areas measured eight inches of rain in one day. This storm produced a record tide of 9.8 feet above mean lower low water at Sewells Point. Norfolk saw a tide of 9 feet above mean low water. Five feet of water flooded the city, damaging area crops. A six to nine foot storm surge passed up the Chesapeake Bay. A combination of the storm's surge and back water flooding caused crests as high as 12 feet above mean low water. At least ten vessels met their fate in the hurricane.
On the 8th, of September, 1933 another tropical storm was sighted 180 miles east of the Leeward Islands. It moved north, then northwest, as the Bermuda-Azores High re-established itself across the western Atlantic. Following a parabolic course, the hurricane made landfall near Cape Lookout on the morning on the 16th as a formidable category three hurricane on the Saffir-Simpson scale. The hurricane quickly recurved northeast, passing 80 miles east of Norfolk around noon (track to the left). Heavy damage was seen with this storm in Virginia. Winds rose to 75 mph at Hampton Roads, 87 mph at Cape Henry, and 88 mph at Norfolk Naval Air Station. Tides reached 8.3 feet above mean lower low water at Sewells Point. This hurricane reshaped the peninsula where New Point Comfort lighthouse stood into an island.
References Cited:
These are excerpts from the:
National Oceanic and Atmospheric Administration, Hurricane History - http://www.hpc.ncep.noaa.gov/research/roth/vahur.htm
You can read more about these storms and other Virginia Hurricanes there.